Maltese cuisine has been influenced by its past conquerors.  Different cultures shaped Maltese food.  It is a fusion of Italian, French, British and Arabic flavours.  All these tastes put together created today's rich cuisine.
The Maltese islands are a culinary delight.  During the past decade its culinary experience evolved.  To become a gourmet Mediterranean destination.  Malta saw its first restaurants receive Michelin stars in 2020.  You will eat delicious and sumptuous dishes on the little island.  Expect to be surprised with the choice of dishes which taste like dishes you ate in other parts of the world. 
Locals love their food and enjoy eating out.  That's why you will find Malta and Gozo filled to the brim with eateries.  You will find outstanding restaurants, complemented by Maltese and tourists alike. 
The Maltese love to eat large portions so restaurants cater for such.  Do not rush through your meal.  Allow enough time to eat in a relaxed atmosphere whilst enjoying your meal.   To complement your meal choose an exquisite local wine or a local craft beer.
The Maltese gastronomy is a reflection of its diversity.  Experience the island's cuisine.  Which extends from its capital city, to its towns and small villages.  The Maltese islands are packed with mouth-watering restaurants.  You will find something which satisfies your cravings.  From high-end restaurants to laid-back eateries and reasonably priced restaurants serving superb food. 
As of late eateries saw a significant increase in the number of people requesting vegetarian and vegan options.  Many restaurants in Malta started catering for these needs.  Most restaurants have a plate or two listed on their menus to choose from. 
People also look for ambience, quality of service and value for money.  From the vast selection of restaurants available you can choose one in the heart of the city.  Or one located along the island's promenade.  Or a small eatery situated in a rural village.  Valletta, Sliema and St. Julian's are the life on Malta.  Situated there are a cluster of high quality restaurants.   Besides, casual eateries which offer great dining experiences.  With tasty food at fair prices. Yet, even the quiet villages do not lack delicious eateries. 
Restaurant prices vary according to location and choice of food.  But expect anything between €20 to €40 per person for a decent two course meal and drinks.  Yet, you are sure to find a restaurant which is apt for your budget.  The majority of restaurants do accept payment by credit card.
Bear in mind that some restaurants are more popular than others.  If you want to dine at a particular restaurant it's best to make a reservation.  Saturday nights and Sunday lunches are busier than other days of the week.  A reservation is recommended on these days.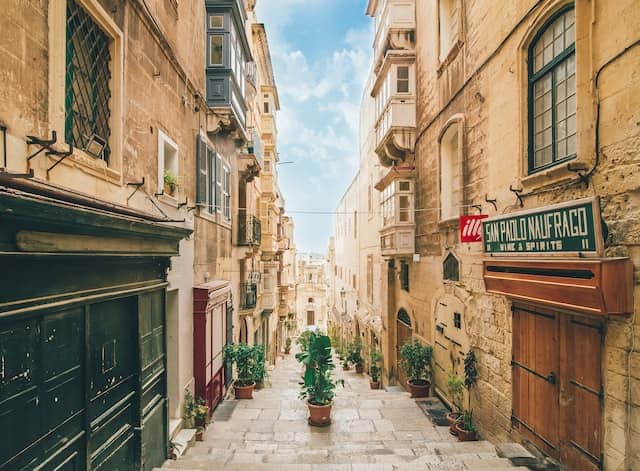 Restaurants in Valletta
The capital city is home to a large number of catering establishments.  Located here are some of the best eateries in Malta.  You will find eateries along Valletta's main streets.  Others tucked away in quaint narrow streets or in its bastions.  Valletta's historic setting provides a picturesque scene for many restaurants.  Such settings create a romantic atmosphere.  Most eateries have indoor and outdoor seating.   Dine at restaurants which have terraces or rooftops for spectacular views.  You can enjoy scenic views of the Grand Harbour and Three Cities or Sliema. 
Restaurants situated in cellars and historic buildings offer a cosy and friendly atmosphere.  Order a bottle of wine over a mouth-watering Maltese platter, sit back and enjoy the ambience.  Eateries in old houses provide a unique and intimate ambience.  These places are ideal to cool down in summer and get cozy in winter.
In Valletta you can dine on anything from sandwiches, pasta to tasty fish and delicious meats.  Dishes at high-end restaurants provide artistic food presentations.  Yet, Valletta is not short of casual eateries which serve snacks, pizza, pasta and burgers.  A couple of eateries bake the renowned Italian pizza. 
Several restaurants have homemade food.  Such as ravioli and fresh pasta.  Filled with a variety of ingredients prepared by local chefs.   Homemade food is worth trying out!  All eateries provide delicious desserts over tea or coffee.  
Whilst strolling around Valletta, you will notice restaurants which have their menus listed on a blackboard.  These restaurants change their menu daily.  But these restaurants serve a mix of pasta, meat and fish dishes.  Others change their menus according to the season.  All dishes are cooked from fresh ingredients by experienced chefs.  You will definitely come across a restaurant that suits your taste buds!
The majority of restaurants have fantastic service.  With knowledgeable and friendly servers who cater for your every need. 
Restaurant's décor varies from one catering establishment to another.  Some restaurants have modern finishes.  Others have  Maltese limestone walls with contemporary art paintings.  Some are elegant and classy.
Unique to the island and Valletta is a Victorian market.  Known as 'Is-Suq tal-Belt'.  Renovated in recent years it has been covered and transformed to a food hall bustling with noise and fun.  There is a great variety of food to choose from and you can eat at one of the communal tables.
An icon of Valletta is Cafe Cordina.  Located right in the heart of the city it is the oldest café in Valletta.  The interior is decorated in a Viennese style.  Homemade sweets and savory items are on display.  You can enjoy their food either inside or in the square opposite the café. 
Restaurants in Sliema and St. Julian's
Sliema and St. Julian's are the most popular towns when it comes to socializing and dining.  With several restaurants situated along the water's edge.  Restaurants located by the seafront provide spectacular sea views.  Dine whilst you enjoy your meal overlooking the water's edge.  Both in summer and in winter the view is a delight!
Eateries here are housed in modern buildings with contemporary or modern décor.  Yet, there are some elegant high-end restaurants.  Together with a good number of casual eateries.  Offering a relaxed atmosphere good for socializing with family and friends. 
In both localities you are spoilt for choice when it comes to eating out.  There is a great selection of eateries.  From those providing snacks, burgers, pizzas to mouth-watering meats and fish.  In Sliema and St. Julian's you can get a taste of global flavours.  Such as Thai, Chinese, Indian, Japanese, Turkish, French and Mediterranean.  There are also a handful of restaurants which provide top-notch traditional Maltese cuisine. 
Food at all restaurants is fresh and beautifully presented.  A couple of restaurants do shine over others and are worth trying out.  Most restaurants are lively.  Buzzing with noise and people chatting over their meal. 
Restaurants around Malta
Nestled behind the bastion walls of the city of Mdina are a couple of fine restaurants.  Walk along the cobbled alleys of Mdina to view the magnificent medieval city.  Then sit down and relax at one of its eateries.  Restaurants are all housed in medieval buildings with a homely interior.   Restaurants serve appetizing Mediterranean dishes.  You can dine on anything from Maltese platters, snacks, pizza to steaks and fish.  Each eatery sets its own ambience.  But you will appreciate the quiet and peaceful atmosphere at each restaurant.  In Mdina restaurants help you unwind and relax while enjoying a delicious meal. 
There are plenty of restaurants in the neighbouring towns of St. Paul's Bay, Buġibba and Qawra.  Some of which are situated along the northern coast.  These provide stunning views.  Here you will find several family run restaurants.  Which welcome their guests in casual and modern style diners.  Restaurants serve a selection of tasty dishes enhancing your dining experience.   Food is served fresh with great service.
Popular with tourists much more than locals are restaurants in Mellieħa.  Restaurants specialize in Maltese and Mediterranean cuisine.  All eateries serve plenty of mouth-watering food. 
Mġarr is home to traditional Maltese restaurants.  Restaurants here are renowned for hearty rabbit dishes.  Together with other Maltese home-cooked dishes. 
Restaurants located in Marsaxlokk specialize in serving fresh fish and Mediterranean seafood.  Marsaxlokk is a port village.  It is everything you would expect from a typical fishing village.  Bobbing in its harbour are the traditional colourful 'luzzu'.  Being the Maltese typical fishing boats.  A market is held here every Sunday.  Visit the market then eat lunch at one of the many restaurants overlooking the harbour.  Marsaxlokk has a good choice of restaurants.  Try the catch of the day which is skilfully cooked by local chefs. 
The Three Cities in the south of Malta is also home to a few restaurants.  Situated along the waterfront are the majority of its restaurants.  Views are breathtaking.  Enjoy the Grand Harbour and Valletta scenic vistas whilst dining.
Malta's sister island Gozo is a culinary experience in itself.  The little island is filled with exceptional restaurants.  Both in its quiet villages and in its popular seaside villages.  Gozo has plenty of casual eateries.  The majority of which are family run.  Most eateries serve snacks and burgers to Italian and Mediterranean dishes.  Cooked with fresh and seasonal produce.  In Gozo you can enjoy the peaceful seaside or country views whilst dining on tasty food.
Maltese Speciality Dishes
Whilst in Malta discover the authentic Maltese dishes.  Rabbit is the acclaimed national dish.  Traditional Maltese restaurants serve rabbit as a main dish in a variety of ways.  Such as fried in olive oil, roasted or stewed.  A local favourite is 'stuffat tal-fenek' being rabbit stew cooked in wine and herbs.  Restaurants serving home-cooked dishes have spaghetti cooked in rabbit ragu sauce.
Fresh fish is a prominent dish in Malta.  This comes as no surprise for an island surrounded by sea.  The most popular fish dish is 'lampuki'.  This is either cooked in tomato, onions, capers and white wine or served as a pie.  The 'lampuki' pie is made of fish together with vegetables, walnuts, and olives.
Try also the warming fish soup which is boiled with tomatoes and garlic known as 'aljota'. 
A Maltese signature snack is the 'ftira'.  This is the Maltese traditional flat bread and has a round shape.  Spread tomato paste across the bread.  This is then stuffed with tuna, olives, capers, 'ġbejniet' and onions.  It makes an ideal lunch. 
Malta's most famous national snack is 'pastizzi'.  These diamond shaped delicacies are made out of filo pastry and filled with peas or ricotta.  You can either try these as breakfast or as a snack between meals.  Sold by cafes or the traditional 'pastizzeria'.  A 'pastizzeria' is a local fast food outlet found round every corner in Malta! 
Try also the Maltese platter over a glass of wine.  Made of Maltese delicacies.  Being 'ftira' pieces, sundried tomatoes, stuffed olives, Maltese sausage, 'bigilla' dip and 'ġbejniet'.  'Ġbejniet' are round cheeselets made out of goat's or sheep milk.  These can be plain, peppered or spicy. 
If you are into traditional food try other speciality Maltese dishes.  Such as 'soppa ta' l – armla' a soup made out of tomatoes, vegetables and 'ġbejniet'.  'Timpana' is macaroni cooked with minced beef and eggs.  Covered with a pastry crust and baked in the oven.  'Braġioli' are thin slices of beef filled with a mixture of cheese, ham and herbs.  Stewed octopus cooked in a ragu sauce with tomatoes, onions, olives and capers.
Whilst dining try one of Malta's produced wines.  Or enjoy your meal over its famed craft beer, Ċisk.  Or one its local ales Hopleaf Pale or Blue Label.  After your meal try one of the local liqueurs.  Anisette made from aniseed.  Or Bajtra, its main ingredient being prickly pear.  Malta also produces its local soft drink, Kinnie.  Sold only in Malta.  It is a fizzy drink with a slight bitter taste combined with an orange flavour.
The little Mediterranean island is sure to provide you with a memorable dining experience.  Malta is not short of excellent restaurants!