Are you curious about the world around you?  Are you eager to learn in a fun and engaging way?  Then Esplora Interactive Science Centre is the perfect place for you! 
Located at Villa Bighi, in Kalkara, overlooking  the Grand Harbour.  Esplora Interactive Science Centre opened its doors in October 2016.  Following a period of extensive restoration and development.  It is one of Malta's major visitor attractions.  This unique science centre is an informal educational recreation facility.  Suited to visitors of all ages.  It offers its visitors an exciting and educational experience.  
Spearheaded by the Malta Council for Science and Technology.  Making this project one of a kind in Malta.  It sought to cultivate a culture of scientific curiosity.  The building has been restored to house several exhibition halls and outdoor spaces.  
The Esplora Interactive Science Centre is a treasure trove of fascinating exhibits.  Designed to spark curiosity and encourage hands-on learning.  In total, there are over 200 exhibits to discover. Too to help visitors understand science.  Esplora's exhibits provide an exceptional opportunity to delve into various scientific concepts.  
A day at Esplora encourages imagination by igniting a passion for science!  Let's delve into some of the captivating exhibits that await you at Esplora.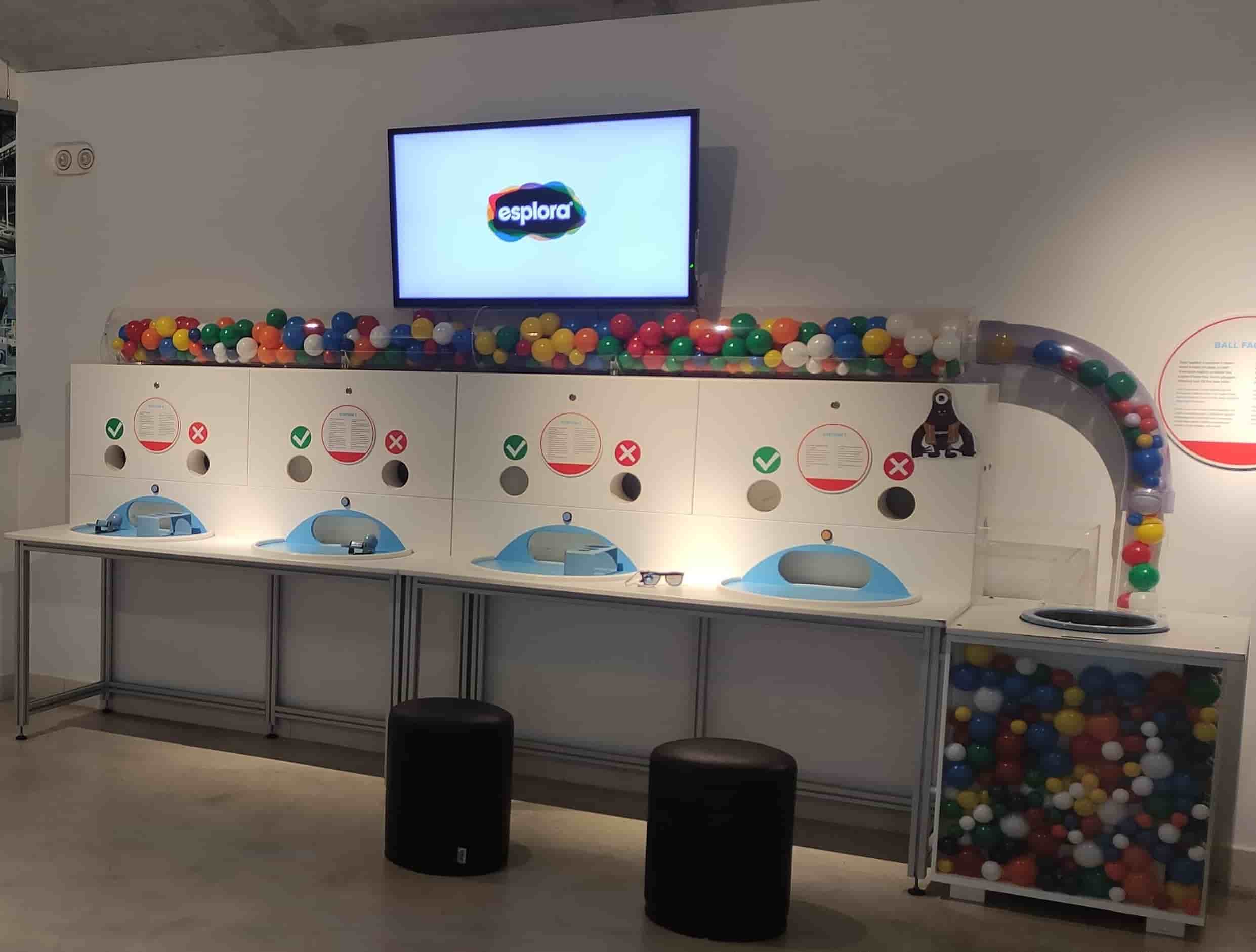 Your Visit at Esplora Interactive Science Centre
Esplora provides visitors with the opportunity to discover science at your own pace.  It projects science as entertaining and being easy to understand through interactive exhibits.  Exhibits encourage visitors to explore through a series of hands-on experiences.  Throughout the day a range of workshops, too science shows are held at the activity centre.
Esplora is open from Tuesday to Friday from 9am till 3pm.  On Saturday, Sunday and Public Holidays from 10am till 5pm.
Buy entrance and planetarium tickets from the reception at the Main Exhibitions Building.  You can pay for tickets both by cash and credit card.  An adult ticket costs €6 and a child ticket costs €4.  Children between 0 and 2 years enter for free.  The planetarium adult ticket costs €2 and the child ticket costs €1.  You have the option to buy a family and friends bundle.  One of the bundles being 1 adult and 2 children costs €12.  Another bundle of 2 Adults and 2 children costs €15.  Whilst, the bundle of 2 Adults and 3 children costs €18.  Reduced entrance applies to disability card holders, senior citizens and students.
Entrance ticket entitles the holder to enter the main exhibition halls.  As well as one science show or workshop.  Before visiting the exhibition halls check the science show times.  Do not leave to the last minute to go to the activity centre.  Entrance to science shows and workshops is on a first come first, served basis.  Visitors attending a life show at the planetarium's dome are to take note of the time.  Doors open 20 minutes before the start of the show.
Food and drinks are not allowed in exhibition halls.  You can eat and drink in assigned areas.  Lockers to hold your belongings can be leased against a deposit of €5.  
You can reach the science centre by car or public transport.  Visitors coming by car can park along the stretch of road leading to the building.  Visitors who opt to use public transport must take bus number 3 from Valletta.  The bus stop is located outside the building.  Another option is to take the hop-on hop-off bus.  One of its stops is at the science centre.
Should you have any queries you can call reception on 2360 2300.
Exploring Science at the Esplora Interactive Science Centre
Esplora is all about interactive learning.  Instead of reading about science in books.  Here, a person can experience science through interactive exhibits.  You get to see, touch and use all exhibits.  These have been built to be handled by visitors of all ages.  Experiment with various scientific concepts.  Whether you're interested in physics.  Biology, chemistry, or astronomy.  Esplora has something for everyone!  The center provides an excellent opportunity for students, families and even adults.  To explore science in a direct and engaging way.
The science center boasts a wide range of interactive exhibits.  Enabling visitors to experience science through questioning, experimenting and drawing conclusions.  Making learning fun and exciting.  From exploring the wonders of the human body.  To experimenting with electricity and magnetism.  There's something to pique everyone's interest.  You can discover the secrets of DNA.  Simulate an earthquake or observe the night sky in the planetarium.
Discovering Science Wonders: A Closer Look at the Exhibits at Esplora Interactive Science Centre
The exhibition zones are filled with hands-on exhibits.  Giving an opportunity to discover and understand.  Igniting a passion for questioning!  Visitors can wander outside.  You will find an Outdoor Adventure Park besides beautiful landscaped gardens.  From which you will see amazing views of Valletta and the Grand Harbour.  
The main exhibitions located at ground halls include:
Motion:

this zone is all about energy and movement.  Release a hot air balloon and launch a rocket.  Pilot a plane and see how far you can project a tennis ball in air.

Optics:

  proceed to the Light Room from the Motion Hall.  One of the exhibits includes large eye balls.  Through which you see the impact glasses can have on vision.  Play with prisms to split light into its various colours.

Electricity and Magnetism:

uncover its mysteries in a hands-on and enlightening way.  This exhibit allows you to experiment with electrical circuits.  Generate electricity by pedaling a bike.  Play with magnets to grasp the fundamental principles of these powerful forces.  It's an electrifying experience.  That demystifies the science behind the gadgets we use every day.
The Human Body:

step into the intricate world of the human body.  This zone offers a unique, up-close exploration of our biology.  Visitors can examine the inner workings of the heart.  Understand the complexities of the brain and even step inside a giant human cell.  With interactive displays and engaging models.  You will gain a newfound appreciation for the incredible systems that keep us alive.

Nature and Environment:

this exhibit focuses on the diverse ecosystems.  Visitors can explore the ecological balance.  As well as the unique species found in Malta.  Dive into the fascinating world of marine life.  This exhibit offers an interactive lesson in marine biology and the need to protect our seas. Learn about the importance of conservation.  Understand the unique challenges of preserving our oceans.  Discover the impact of climate change.  Learn about the importance of biodiversity.  It's a reminder of our responsibility to protect and preserve the environment.

Earth:

Esplora takes you on a journey to our planet.  Explore Earth's geology.  Including a simulated earthquake experience.  That provides a thrilling yet safe way to understand seismic activity.  
The main exhibitions located at the upper halls include:
Illusions: 

this zone has several tricks of the light exhibits.  Watch up close to

be fascinated by

your vision.  
Sound:

this hall has many musical instruments which you can play.  Record your own music, play a harp without strings or drum on pipes to hear different sounds.
Engineering:

walk across the musical corridor to enter this zone.  Whilst walking, hear the different musical notes playing on the piano.  This hall encourages creativity and innovation.  Visitors can experiment with various materials, mechanisms and simple machines.  Fostering a deep understanding of how inventors and engineers develop new technologies.  Unleash your imagination in this space.  You're invited to tinker, design and build.  Place gears on a wall board to ring a bell.  Build your own bridge.  Transport ship containers with a container crane.  

Media:

proceed to this hall through Engineering.  Watch the process of movie production.  Go through several pictures and see the effect of 3D glasses.  

Nature of Matter:

here you can engage in a safe environment to explore the wonders of chemistry.  You can conduct experiments, mix compounds and observe chemical reactions.  Produce your own fireworks and watch the display on screen.  It's a place where the periodic table comes to life.
The main exhibitions located at basement level include:
Toddler Fun:

all zones here

are designed

for toddlers.  From an indoor slide to a play area filled with plastic balls.  Place these balls in the tubes, press the button and watch them go around the room.
Planetarium
One of the highlights of Esplora is the planetarium.  Housed in a separate building.  It's a cosmic adventure that transports you into the universe.  The exhibits zone includes a Universe Exhibition.  A Planetarium Theatre and Life in Space.  Here, you can embark on a journey through the universe.  At the Planetarium Theatre, a dome-shaped screen.  Displays mesmerizing visuals of stars, planets and galaxies.  It's a fantastic experience that takes you on a celestial adventure.  Making you feel as though you're traveling through space itself.  
Multi Sensory Room
Esplora's aim is to offer an all-inclusive experience to all its visitors.  Hence, a multi sensory room was set up to offer a serene environment.  For people with physical, intellectual and behavioral disabilities.  The room has specialist sensory equipment which stimulates an individual's senses.  The equipment offers optical, acoustic and tactile stimulation.  Like a mirror ball light display, ceiling projections, pressure seating and much more.  Persons can be entertained through a range of sensory experiences.  
Note that visitors need to book this room at reception.  Each session is 25 minutes.  Booking is free of charge.
Workshops and Events
Esplora hosts workshops and events to encourage a deeper understanding of science.  These events cater to various age groups and interests.  They often include fascinating experiments and interactive activities.  Whether you're a student looking to learn more about a particular topic or a family seeking a fun outing.  You will find something intriguing at these workshops.  
Educational Programs
Esplora plays an important role in a child's education.  They offer educational programs that complement the school's curriculum.  Besides providing teachers with valuable resources to enhance science education in the classroom.  This ensures that science learning extends beyond the walls of the center.  Too local schools.
Esplora Interactive Science Centre is a remarkable place for people of all ages.  The Science Centre's exhibits are more than displays.  They are gateways to a world of knowledge and exploration.  It's an educational adventure that makes science exciting and accessible to everyone.  Whether you're a student, a family or an individual with a passion for science.  Esplora has something to offer.
Through interactive displays Esplora transforms abstract scientific concepts into tangible lessons.  The centre's exhibits promote a love for learning.  Too a deeper understanding of the world around us.  So, when you visit Esplora, prepare to be amazed.  Inspired, and educated as you embark on a journey of scientific discovery like no other.