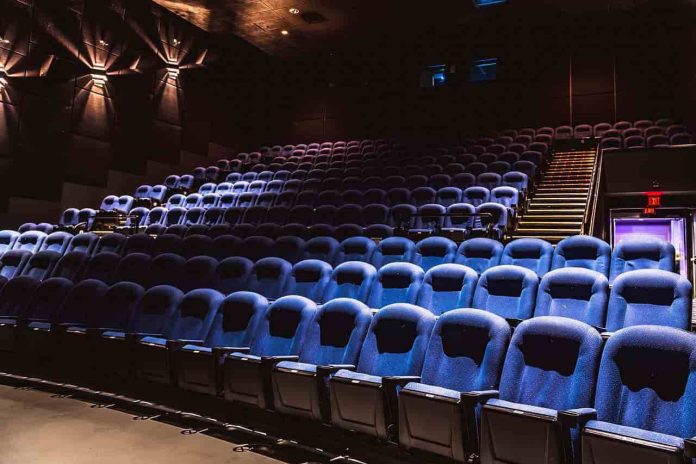 Spread throughout the tiny island of Malta, you will find four cinema complexes.  Whilst Malta's sister island, Gozo, has only two cinemas.  Eden Cinemas, Embassy Cinemas, Galleria Cinema and 'Spazju Kreattiv' operate in Malta.  Gozo is home to the Citadel Cinema and CineFamilja at 'Oratorju Don Bosco'.
Throughout the early 1900's up till the late 1970's every city and town in Malta had a cinema.  With a several having more than one auditorium.  Some of the famed cinemas located around the island were in Sliema and Valletta.  The following are some of the renowned cinemas in Sliema.  Such as Alhambra, Carlton, Gaiety, Plaza and Majestic.  In Valletta, the following cinemas were quite popular.  The Ambassador, Capitol, Coliseum, Regent and Savoy.  Well known cinemas in Hamrun were Hollywood, Radio City and San Remo.  Birkirkara's notable screens were the Ritz Theatre and Roxy Theatre.  Besides, located around the island were other renowned cinemas.  These include the Amazon Theatre in Qormi, and Astoria Theatre in Rabat.  The Empress Cinema in Luqa, Orpheum in Gzira and Palladium in Mosta. The Rialto in Cospicua and Tivoli Cinema in Paola.
In the late 1970's, early 1980's cinemas started seeing a decline in their audiences.  This was because of the introduction of television sets.  This left a negative effect on local cinemas.  As a result, all the cinemas located in cities and towns had to close their doors.
Yet, in the 1990's cinemas evolved to changing trends.  New cinemas opened their doors to serve customer's demands.  Cinemas had cutting-edge technology and facilities to cater for customers changing needs.  Cinemas became popular once again.  People wanted to watch their favourite movies on the big screen.  Today, cinemas have in place great promotions to attract customers to their screens.
Malta is one of the first countries in Europe to show the latest releases.  The audience can enjoy Hollywood blockbusters all throughout the day.  All cinemas are equipped with the recent cinema technology and equipment.  All projected movies are in English the majority of which are without subtitles.  Half way through the film there is an intermission so you can buy refreshments from the foyer.
Head to the cinema to unwind and enjoy an evening of relaxation.  Teenagers like to kick off their evening at the cinema.  Before socializing and partying later during the night.  Heading to the cinema is the ideal way to escape the summer heat or to get cozy in winter months.
Cinemas are of interest both to the casual moviegoer and those with a passionate interest in movies.  Cinemas give families the perfect opportunity to spend time together.  While watching an animated movie.  For couples to enjoy time with their significant other in an intimate environment.  Nowadays, cinemas provide the opportunity to book private screen time.  Organize your kid's birthday party or relax with your friends in a private auditorium.
Filmed on the island are several famed movies.  Malta has been the set for high-profile films.  Like Jurassic World Dominion, Captain Phillips and Assassin's Creed.  Epics like Troy, Gladiator and many others.
Located in Malta's nightlife hub is the most popular cinema complex.  The Eden Cinema Complex situated in Paceville, St Julian's is a favourite among locals and tourists.
Let's take a look at what the cinemas in Malta and Gozo have to offer.
Eden Cinema, St. Julian's
By and large the most popular cinema in Malta is the Eden Cinemas.  This delightful venue opened its doors in 1993 and initiated quality cinema in Malta.  Today, it is the leader in the local cinema industry.  This cinema situated in the heart of the entertainment district, St. Julian's.  It is also the largest complex on the island.  Made up of 7 air-conditioned cinema screens with a total seating capacity of 1,640 seats.  Cinema screens 1, 2, 3 and 7 are wheelchair accessible.  It is one of the cinema complexes that has the latest audio-visual technology in Malta.  All its cinemas provide the best Dolby digital sound and big screens.
The Eden Cinemas projects cultural productions and live theatre performances.  These broadcasts are from the world's best known theatres.  Such as art exhibitions, operas, ballets.  As well as stand up comedy shows.
The ticket price is reasonable.  An adult ticket for 2D films sell at €9.00.  Children ticket sells at €5.25 and that of a youth €6.75.  Entitled for a discounted price are senior citizens and persons with special needs.  This applies only for films showing before 7pm. The cinema also offers the option for a family ticket at €21.00.  Prices for 3D films cost slightly more.
Eden Cinemas provides its customers with several amenities.  Like acceptance of credit cards, elevators, accessible facilities, no smoking, parking and WiFi.
You do not have to worry about parking when purchasing a cinema ticket from Eden Cinemas.  Customers
are entitled
to park at the Eden car park at a flat rate up to 4 hours of parking.  This parking offer is valid for 7 days a week.
Embassy Cinemas, Valletta
The Embassy Cinemas are located in Valletta.  The state-of-the art cinema auditoriums are the most recent to open in Malta.  The cinema has 6 air-conditioned film auditoriums.  Each equipped with luxurious and comfortable stadium-like seating with unobstructed screen views.
Each auditorium has a small number of seats.  Yet, it is more warm and welcoming.  The cinema provides contemporary facilities and latest cinema technology.  It screens the most recent film releases and blockbusters.  You can also choose from a wide-selection of drinks and snack items at the bar.  Go and enjoy the latest film and experience a fun and relaxing activity in the heart of Valletta.
A unique promotion undertaken by the cinema is the Embassy Club.  Sign up for free to become a club member.  Once enrolled as a member you will earn points on each cinema visit.  You will get 1 point for every €1.00 spent.  Redeem points for free popcorn or nachos or 2D cinema tickets.  You will be notified about special offers, club incentives and other news.
The Embassy Cinemas have been recently renovated.  Upon reopening a unique cinema auditorium was set up.  Known as Star Lounge.  This is an exclusive and private cinema theatre.  It has a big screen, comfortable sofas and can accommodate up to 16 people. 
Star Lounge is exclusive venue is ideal for kids or adults birthday parties.  Or private film screening among family members or friends.  Guests can choose from a wide selection of movies subject to availability.  You can organise any other event with a limited number of guests.  Such as a conference or a big-screen gaming competition among friends or colleagues.  Star Lounge serves any catering, be it food or drinks based on customer requests.  You are guaranteed an unforgettable experience, fun and entertainment.
The ticket prices for 2D films with standard seats is adults €8.00, Children under 11 years €4.50 and the family pass is €21.00.  Seniors and special needs tickets cost €5.50 from Monday to Friday.  This applies for films before 8pm, weekends and public holidays before 5pm.  The cinema offers the option of premium seats for a higher price.  3D cinema tickets also cost marginally higher.
Another projection on the big screen is the Valletta Living History.  This high definition docudrama portrays life over the centuries in Valletta.  Under its several foreign rulers.  It gives an insight into the city's history and looks into the local culture.   This audiovisual is available in 8 different languages.
The Eden Cinemas and the Embassy Cinemas offer the latest and widest range of choice of films on the big screen.
'Spazju Kreattiv'
Cinema, Valletta
This cinema is located in St. James Cavalier, Valletta.  This is Malta's National Centre for Creativity.  This cozy place screens local and international art-house movies.  Such movie is planned to be a genuine artistic production rather than a movie which is high in demand.   Its genre comprises films with artistic ideas and style.  Art filmmakers control every aspect of the film production.  They make use of unconventional filming methods.
'Spazju Kreattiv' is the local arts hub for creative arts and culture events.  Showing on its screens are famed opera, theatre and dance productions from all over the world.  Such as the MET Opera, the Bolshoi Ballet and the Royal Shakespeare Company.  It also screens cult films and documentaries.
You can enroll as a
'Spazju Kreattiv'
Cinema club member to enjoy several benefits.  Among which is a discount on entrance fees.
5D Cinema, Valletta
The only 5D Cinema in Malta is situated in Old Bakery street, Valletta.  This makes it accessible to everyone.  Take a break from sightseeing or shopping and watch this 18 minute audio visual attraction.  Here Malta's history and culture come to life.  This is a 3D production with moving seats and special effects.  Such as water spray, air blast and leg ticklers.
This unique cinema provides everyone with a fun and entertaining experience.  While you explore and appreciate Malta's dramatic and historical episodes.
This cinema is open from Monday to Saturday from 10am to 5pm with shows running every 30 minutes.  Buy cinema tickets at the door.  Adult tickets cost €10.00.  Whilst discounted tickets for children, students and senior citizens cost €6.00.  Yet, caretakers of children aged 6 or under are to speak to the manager before the buying tickets.
The cinema has non-moving seats which cater for up to 10 persons at a time.  Any person who suffers from health conditions can avail himself of such seat.  The theatre accommodates people with special needs.  There are determined wheelchairs spaces which can be accessed alone without someone's help.  Besides, it is recommended that pregnant women do not attend the audio visual show.
The audio-visual multilingual devices are available in 19 languages.  
Some of the languages offered are English, French, German, Italian, Spanish, Swedish, Japanese, Russian and Chinese
.
Galleria Cinemas, Fgura
Located in Malta's southern area in Fgura.  In the past this place was the Viceroy Cinema.  It opened its doors after the end of World War II.  Demolished in the mid-1990's to pave way for the construction of the current complex.
The new complex was named The Galleria Shopping & Entertainment Centre.  The complex included 4 cinema auditoriums and several outlets.  Later in time the complex was acquired by Tal-Lira Group and renamed to Tal-Lira Cinemas.  The cinemas screened 3rd-run movies at heavily reduced ticket fees.
Yet, in recent years the complex was renamed to its original name.  The auditorium shows latest releases at standard prices.  The complex houses Tal-Lira Jumbo Store, a cafeteria, a children's play area and a games room.
The cinemas have a seating capacity of 777 seats across its 4 auditoriums.  The ticket prices for 2D films are adults €7.00, youths €6.00.  Senior citizens and persons with special needs €5.00 and children €4.00.  The cinema offers free popcorn with every child cinema ticket.  Besides, having a family deal of €18.00 and free popcorn with every child ticket.  Cinema tickets for 3D films are €1.00 higher in price across all age categories.  The cinema has group offers for scouts, schools, football nurseries and parish groups.
Citadel Cinema, Victoria, Gozo
The Citadel Cinema is located in the heart of Victoria, Gozo.  In a 19th century Maltese townhouse right next to the Citadel.  With parking facilities situated close by.
This cinema has been operation for the past 18 years and projects two films daily, both starting at 20:30 hours.  Yet, on Saturday and Sunday there is an extra show at 17:30 hours.  This cinema has two modern screens to entertain moviegoers.  It screens the recent movie releases.
The auditoriums have a total capacity of 298 seats and cater of people with special needs.  The foyer on the ground floor has a bar, lounge and waiting room.
The ticket prices are as follows: adults €6.00 and children up to 11 years €4.00.  Senior citizens pay €5.00 from Monday to Thursday.
The Citadel Cinema projects Gozo 360°.  This is a 30-minute film of this rural island.  This is a historical documentary production and available in 16 different languages.  Which includes English, French, German, Italian, Spanish, Japanese and others.  Filmed with professional technological equipment bringing a beautiful picture to the screen. 
The production shows the Gozitan history and life in an outstanding sound and vision experience
.  You will get a glimpse of Gozo's past and its picturesque panoramas.  This is a delightful entertainment experience for people of all ages.
CineFamilja at
'Oratorju Don Bosco',
Gozo
Another cinema in Gozo, CineFamilja, is situated in the Oratory of Don Bosco.  This is cinema is also located in Victoria, Gozo and was inaugurated in 1951.  The first movie to be screened here was Joan of Arc.  In the early 1980's this cinema also experienced dwindling audiences.  Despite entertaining scores of cinema goers along the years.  The last film shown was BMX Bandits on 30th March 1986.  On 6th February 1994, CineFamilja reopened its doors and projected Home Alone 2 – Lost in New York.
CineFamilja undertook major investment in 2006.  It purchased a new projector together with a Dolby sound processor.  Some years later it changed its old screen for a bigger one.  In 2014, it enhanced its cinema equipment. With a digital projector and a new Dolby surround sound system.
Nowadays, CineFamilja provides a high-quality experience and entertainment to moviegoers.  The cinemas shows films every Sunday at 5.30pm between September and May.  The cinema accepts requests on demand for school children and groups.  During September to May on certain weekdays the cinema also screens special films.
The Maltese Film Industry
The Maltese film industry prominence rose in recent years.  Malta provides a range of shooting locations.  With a variety of landscapes to feature in foreign productions.  The Maltese government offers incentives to foreign producers.  Who use Malta as their set.  As a result, the film industry tourism has flourished in recent years.  Several high-profile big budget films were shot in Malta in recent years.  Such as Munich, Murder on the Orient Express and many others.
Also, a couple of local productions take place in Malta every year.  'Simshar' was the first Maltese feature film distributed to an international viewers.  Other films which followed suit were 'The Boat' and 'Carmen'.  'Carmen' was a Canadian/Maltese co-production.  This film won the best feature film award in the 2022 Canadian Film Festival.  Other local productions showing on local screens are 'Brothers from Malta' and 'Luzzu'.
Looking back in time, the Maltese film industry evolved throughout the years.  Malta as a destination for shooting films goes back to around a century.  Yet, it was in 1964, the Malta Film Studios was set up.  At the time, Malta had already attracted foreign productions.  They made use of its large water tank.  In 1980, another water tank was constructed.  The Malta Film Commission was established in 1999.  With the aim of engaging foreign productions to shoot their film in Malta.
Malta's diverse landscape and captivating architecture brought several different productions to the island.  Maltese cities and towns were used as a substitute for a couple of countries.  Whilst, the captivating Maltese architecture featured in many big-budget films.
What Motivates People to watch a Film at the Cinema?
Consumers behaviours and preferences are always changing and hard to predict.  Bear in mind that tastes vary between occasional and frequent moviegoers.  The main factor which affects both groups is exposure to trailers.  In general, frequent viewers are exposed to trailers online.  While occasional counterparts view the trailers at the cinema.  The latter are influenced by family and friends to view a particular film at the cinema.  Trailers and influencers condition frequent moviegoers to watch a film at the cinema.
Studios and distributors strive to understand people's experience at the cinema.  This to reverse the trend of dwindling audiences.  To maintain its audience the cinema is to market the content to the right consumers.  This is to be performed during the movie's promotional campaign.  Several key factors affect the consumer to watch a film.  Such as marketing communications, film characteristics and ease of access to a cinema.  Advertising material mentioning the title, director, producer, actors, behind the scenes are informative to viewers.  This enables them to select the movies to watch.  The more the moviegoer is able to relate to the story the higher the expectations of the movie.  This enables the cinema lover to view a movie.  As well as it influences the frequency of attendance to the cinema.
For the Maltese the decision to watch a film is dependent on the cinema location.  Followed by the ticket price.  Other important factors are the enjoyable experience and social activity.  The cinema ambience creates a positive mood enhancement and excitement.  Cinemas are a way of relaxation and for some audiences a way to relief loneliness.
Now you are informed about what Malta and Gozo have to offer when it comes to movies showing on the big screen!